So, I finally got around to this gem, and let me tell you, this book deserves all the hype. I bought this book when it first came out in 2017 and it got buried among all of the other books floating around my house that I buy and never end up reading. But my Office Book Club voted for this to be our November read, so I pulled it out, and dusted it off and am now kicking myself for not reading it right off the bat.
"The truth casts a shadow over the kitchen — people like us in situations like this become hashtags, but they rarely get justice."
Was it an easy read? Not always. Was it worth it? Absolutely. Sometimes you need to be hit with the honest truths about someone else's struggles. Discussions that center on racism, prejudice and stereotypes are difficult discussions to have but so, so necessary. I'm glad that teens and young adults have books like this to help foster those discussions. I learned from some of the women in my office book club that high schools are using this book in their English classes as a diving board for these necessary discussions. I'm so jealous. This is so much more relatable than the classics that feature little to no character diversity, which is what I had to read back when I was in high school.
I was engaged in Starr's story right away. But not just her – all of the characters were so fleshed out and had so much depth. Even Chris. Not only do we learn about who Starr is, but we get to see her interact with her family and friends. Even Khalil. The relationships between the characters felt so authentic. And I loved the fact that Angie Thomas didn't pull any punches when it came down to the gritty details. Starr's family is chaotic and confusing. Maverick and Lisa had their own problems within their relationship but they overcame them and built a loving, solid unit for their little family. Is it perfectly neat and tidy? No. But real life is messy. Relationships don't always work out, and they always hit roadblocks, but it's how you recover and/or continue along in your path that matters. The Carters are a family; a beautiful, perfectly imperfect family.
I love that Angie Thomas was able to address a lot of common prejudices between whites, blacks and Asians in such a comedic way. From Asians eating cats (this part was no where near as funny as the rest) to white people calling Target, "tar-jey", Thomas went there and I appreciate her so much for it.
I also loved all of the symbolism in the marketing for this book. I loved the cover of the hardcover edition of the book. The back cover is all black and you can make out the silhouette of a black boy and the front shows Starr surrounded by whiteness, just like everyday at school. Even the acronym for the title that bloggers use when they shorten it serves as a stark reminder of Thomas' message.
I haven't seen the movie yet. In my house, we tend to wait until things come out "On Demand" – I don't like crowded movie theaters, okay? I can't wait to see how the film was adapted from the book.
As far as future Angie Thomas books go, I've already reserved my copy of On the Come Up which releases February 5th. In the meantime, I'll be here…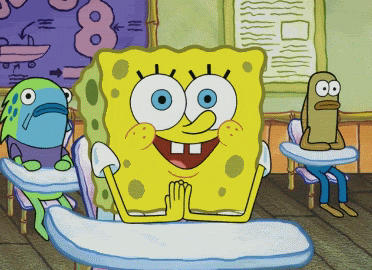 …anxiously waiting.